Aussies First to Get Chromebook Laptops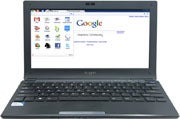 The Kogan Agora Chromebook will go on sale in Australia on June 7.
An Australian device manufacturer has beat Samsung and Acer to be the first company to release a laptop based on Google's Chrome OS. The Kogan Agora will start shipping on June 7. Kogan's Chromebook has features similar to the Samsung Series 5 and Acer Chromebook, which are expected later this month in the United States.
The
Kogan Agora
has an 11.6-inch WXGA display, like Acer's Chromebook. The company says it will come with 1GB of RAM (upgradeable to 4GB), 30GB of SSD storage, a battery that will last 3.5 hours, and HDMI output. There's no 3G option, but Kogan's website says you can stay connected by turning your Android phone or iPhone into a hotspot (the product webpage oddly has a 3G icon under the "always connected" heading).
The Agora is available for order today--but only in Australia--for $349 AUD ($375).